PET Bottle Waste Plastic Recycling Machine
About us:
We are a professional manufacturer specialized in producing waste tyre/plastic pyrolysis plant which can convert waste tyres/plastics/rubber/cable skin into crude tyre oil and vacuum distillation plant which can refine the crude oil/ waste engine oil/waste motor oil/ lube oil/ waste tyre/plastic oil into diesel for more than 20 years with ISO14001:2004 , ISO9001:2008 and CE certificate.

We have experiences in exporting to Jordan, USA, Canada, Colombia, India, Brazil, Afghanistan, Pakistan, Albania, Afghanistan, Bosnia and Herzegovina, Philippines, Dubai, Malaysia, Vietnam, South Korea, Mozambique, Myanmar and Ghana and so on, and have a good reputation in pyrolysis and distillation equipment market.

Background Introduction of this project:
As plastic has been used for all other industry widely, they are playing an important role in the development of our economy, but plastic did not easy to break after being used. So they become a big pollution for our environment. Therefore it is urgent to process those waste plastic without pollution.
In addition ,as the fastest development of world economy ,the shortage of petroleum will be urgent more and more .Even the expert had stated that it will have no petroleum recover in earth after 15years later , so searchIing the new resource has became an issue which is concerned by all the countries in the world.
1. Model of PET Bottle Waste Plastic Recycling Machine:
| | | | | | |
| --- | --- | --- | --- | --- | --- |
| Model | Reactor size | Material | Handling capacity | Weight | Seaworthy packing |
| LJ-8 | 2200*6000mm | Q245R boiler steel plate | 5 tons | 24tons | 2*40HQ |
| LJ-9 | 2200*6600mm | Q245R boiler steel plate | 8tons | 26tons | 2*40HQ |
| LJ-10 | 2600*6600mm | Q245R boiler steel plate | 10tons | 30tons | 1*40FR+1*40HQ |
2. Working process of PET Bottle Waste Plastic Recycling Machine:
First, the raw materials are put into the reactor, and then seal the feeding in door, later start the machine and the reactor will be rotating and heated by coal, natural gas, wood or electricity. When the temperature reaches the degree of 250 to 280, we will get the crude oil, the oil steam will be continuous produced until the temperature reaches 350-460°C; oil steam will flow through oil gas separator, light component will enter the condensers and meanwhile the heavy oil will be discharged automatically into in heavy oil tank. The liquefied part will be condensed as crude oil, and the part which cannot be liquefied will be transferred by the water seal back to the burning chamber to be reused as heating material.
3. Raw material can be used in the PET Bottle Waste Plastic Recycling Machine and oil output reference: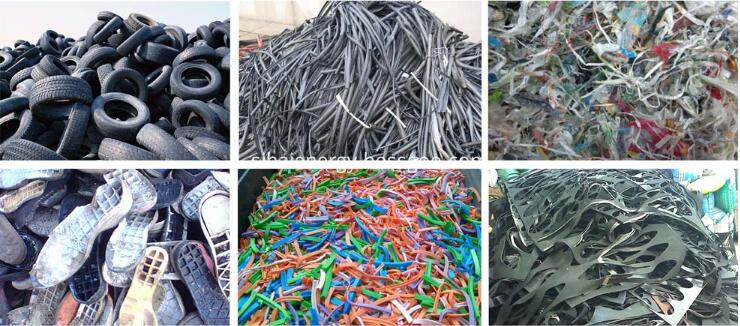 | | | |
| --- | --- | --- |
| RAW MATERIAL | MAIN PRODUCT | OIL OUTPUT |
| PVC | PIPES, CABLE SKIN,SOLE | 40%-50% |
| PE | PIPES, WASTE PLASTIC BAGS,PLASTIC FILM,PACKAGE FILM | 75% |
| PP | PIPES.CAR BUMPER,PLASTIC BUCKET,INJECTER | 20% |
| PS | FOAM BOAD, THROW-AWAY Lunch Box | 30% |
| PET | BEVERAGE BOTTLE, TAPE. | 20% |
| PP | Plastic Box, CUP,BOWL, | 65% |
| ABS | COMPUTER SHELL, TV SET SHELL,PLASTIC DINNERWARE | 40% |
4. Installation: We will be in charge of arranging our engineer to go to your place to guide the installation and train your workers how to operate the PET Bottle Waste Plastic Recycling Machine.