High speed PET bottled water blowing/filling/capping combiblock is widely used for bottling mineral water and pure water.
3-in-1 combiblock is innovated and designed in the requirement of still pure water and mineral water, on the bases of introducing, digesting and absorbing advanced technology from abroad. The combiblock avoids friction of bottles during air conveying and helps reducing bottle weight to reduce cost.
Main Features
1. Blow Molding Machine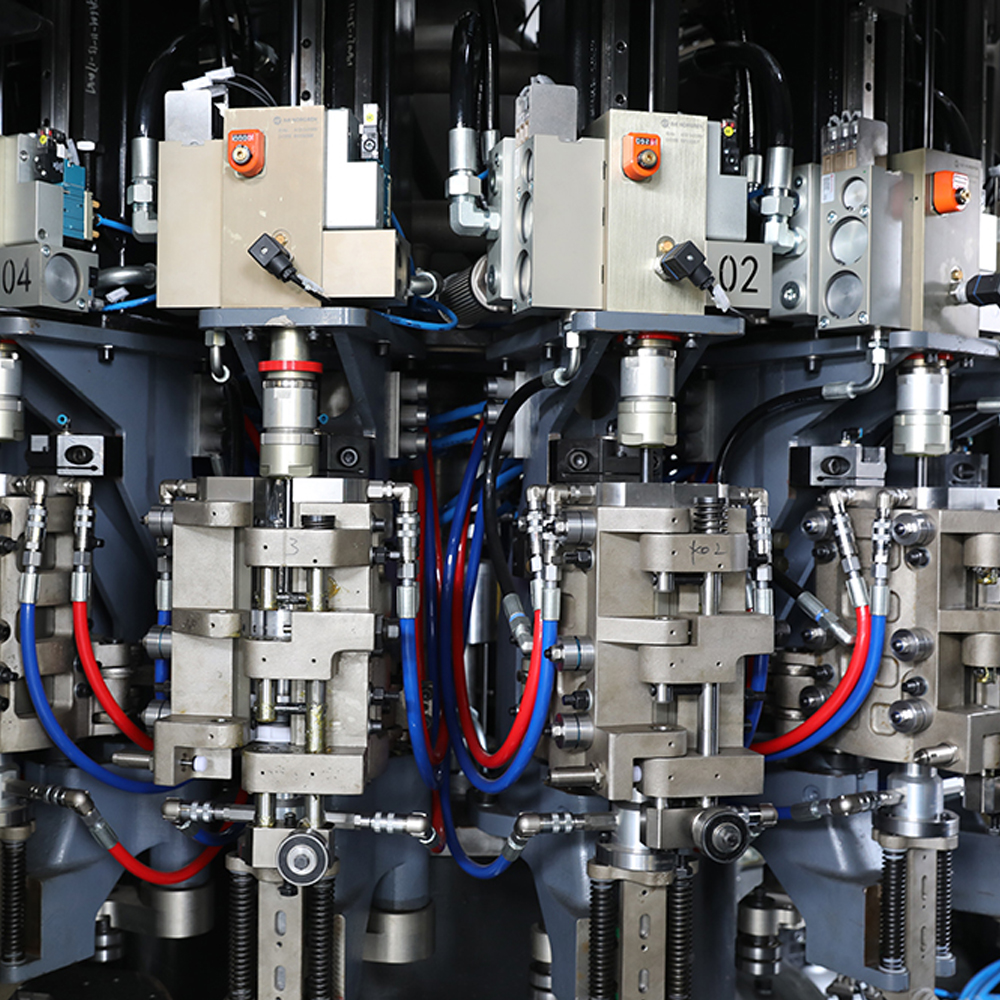 a) Machine operation adopts TFT touch screen with multi languages and friendly interface. Speed, shift capacity and technical specifications can be set on the menu.
b) High efficiency: 2,500 BPH/cavity (500ml Water Bottle), servo stretch system.
c) Double blowing system. Monitoring pressure change curve of each cavity during bottle forming and providing accurate timely parameters, easier for operator to regulate technical parameters and ensure quality stability.
d) Adopt cam organism and accurate mechanical arm transferring technology with high speed preform and bottle feeding, avoiding contamination.
e) Cam organism controls mold opening and clamping precisely with special mold clamping boost system and firm mold shelf structure; independent control of blowing parameters of each cavity; malfunction diagnosing function; enhanced neck sealing stability; regulating blowing pressure; stretching bar controls accurate preform axial stretching and 1st / 2nd blowing controls vertical stretching; regulating of 1st / 2nd blowing precisely ensures ideal distribution of bottle wall thickness.
f) Heating adopts 10-section far infrared temperature control; each heating lamp of pre-heating and regulating zone can be regulated; timely temperature monitoring system ensures technical stability and accuracy, avoiding over high temperature of outer preform wall; 10-20% electrical power is saved by this heating system.
g) Air recycling system (optional) may save compressed air by 30-50%.
h) Technical parameters like heating temperature and blowing time can be set according to different preforms and bottle design.
i) Fast mold changing (within 2 hours) reduces stop time and increases production efficiency.
j) Humanized design makes complicated industrial operation get used to habits.
k) Blowing mold is made of aluminum alloy with oxidization treatment on surface to prolong mold lifespan.
l) Preform infeed starwheel adopts preform block detecting device. When blocks, preform will be rejected and reset automatically.
m) Safety door is equipped with alarming device to protect operators.
Transfer starwheel
a) Neck holding by s/s starwheel. No need to adjust machine height when changing different bottle size.
b) Bottle bottom holding transferring method for bottle outfeed by downward spiral curve.
c) Equipped with bottle jam protection device.
Filler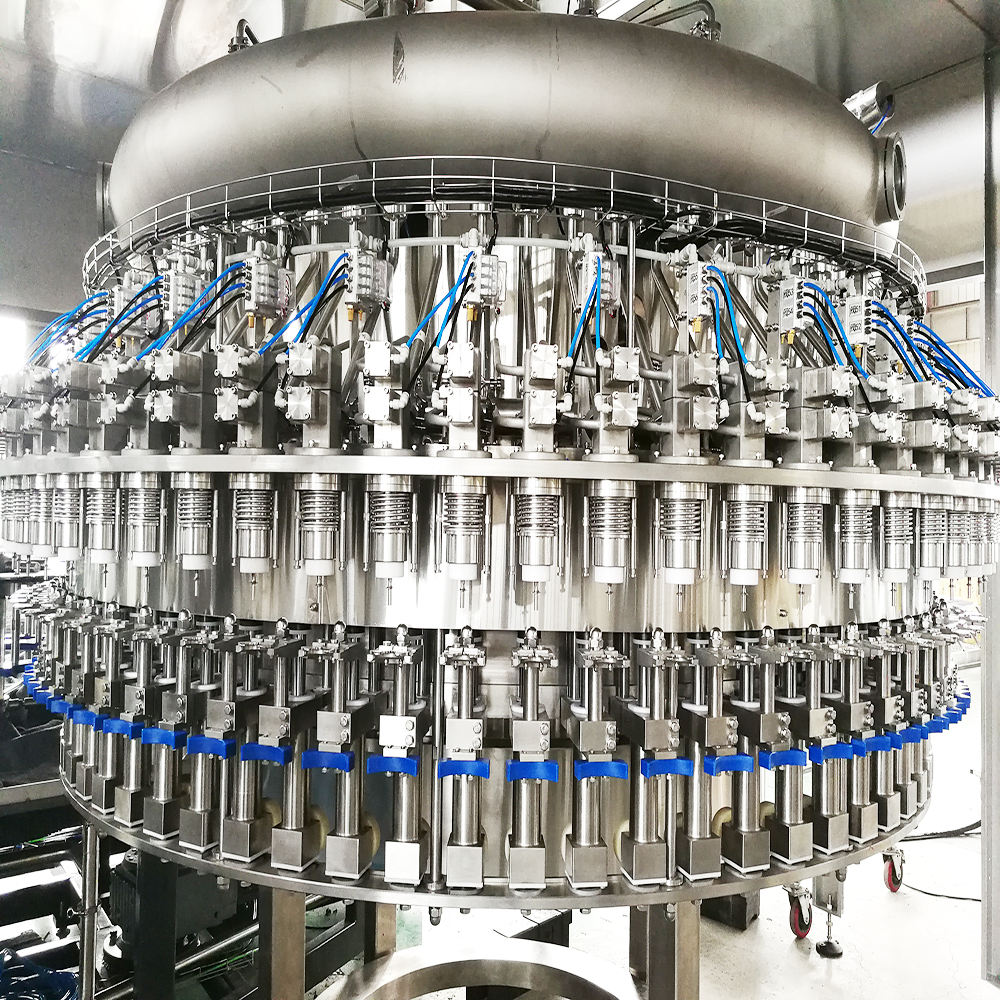 a) Made of stainless steel.
b) Large flat bearing with teeth, stable and reliable performance.
c) Gravity filling.
d) Ring shape tank with float ball level control.
e) High speed and high accuracy filling valve with 200ml/s flowing speed
f) Filling valve equips dummy cup and can do CIP circularly.
g) With rotary spray ball in tank to ensure cleaning effect.
h) Lift by pneumatic cylinders.
Capper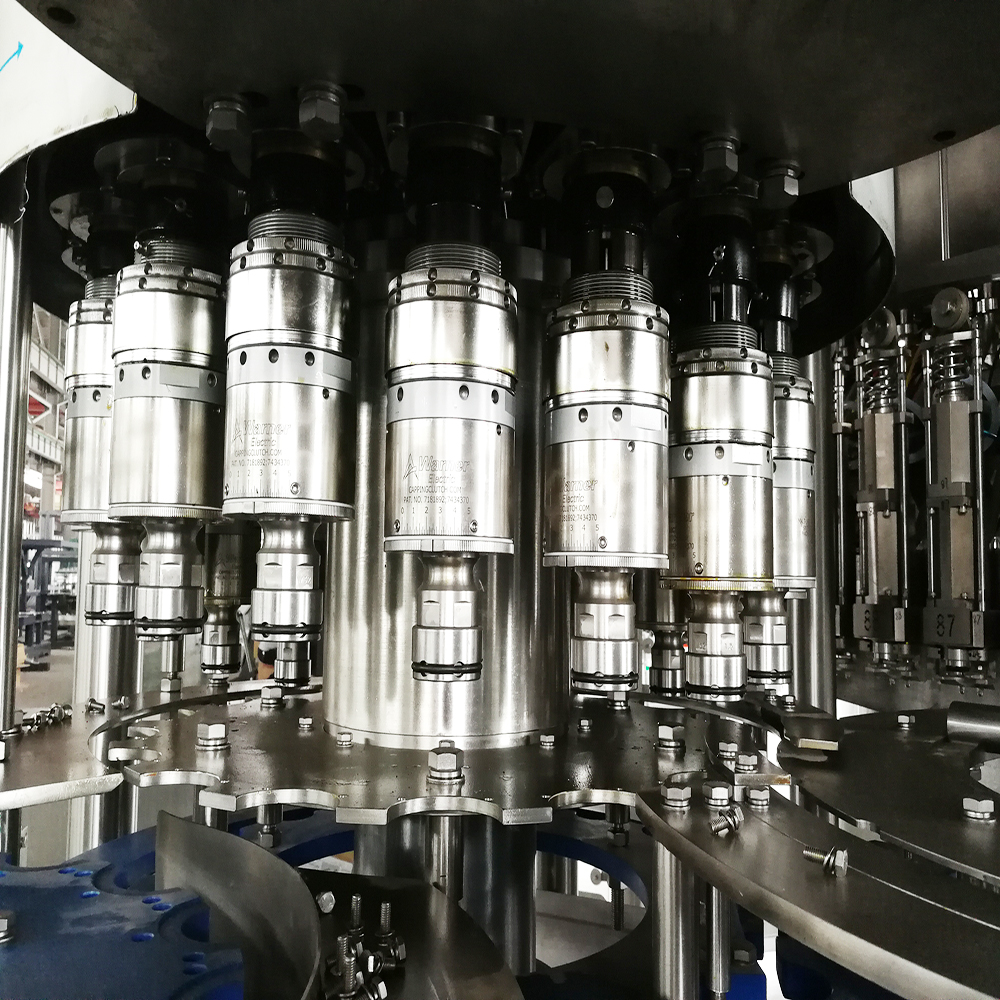 a) Magnetic constant torque capping head ensures stability and controls defective rate of capping less than 0.2%.
b) Cap dropping rail equips a group of photoelectrical switch for reverse cap detecting. When lack of cap, machine will be stopped automatically.
c) Bottle infeed detecting switch works with the pneumatic cylinder on cap starwheel to avoid feeding cap on no-bottle condition.
1. Bottle Outfeed Conveyor
a) Conveyor motor uses frequency control of motor speed, which keep pace with the combiblock, preventing overturned bottle.
b) Bottle outfeed conveyor equips photoelectrical switch. When bottle blocks, the speed of combiblock will be slowed down and stop.
2. Stand
a) The table is a little bit inclined to avoid water accumulation.
b) Good drainage pipes.
3. Electronic Control
The electronic components like PLC and transducer are from Mitsubishi, Omron, etc., The pneumatic devices are also from international famous brand.
Equipment Structure
l Stand
l Rotary blow molder
l Rotary filler
l Rotary capper
l Bottle infeed and outfeed system
l Control
Technical Parameter
Blow Molding

Machine height

3.15M

Number of mold (cavity)

12 pcs

Rated capacity

24,000BPH (500ml)

Bottle size

0.25-2.0L

Bottle diameter

50 mm to 96mm

Preform material

PET

The bottle preform height (ring)

≤140 mm

Holding ring diameter

≤φ36mm

Height of bottle blowing

≤335mm

Electrical specification

Power

AC480V (±10%) 3PH+PE 50/60Hz

Machinery installation power

260KW

Power (16g,0.5L,bottle water)

75-977KW

Bottle blowing process using compressed air

Purity of compressed air machine entry

Conform ISO8573-1

Machine inlet pressure

3.5-4MPa

Compressed air consumption

12Nm3/min(0.5L)

Configuration of air compressor

12Nm3/min+ Air compressor + line loss

Cooling water specification

Preform heating oven cooling

Cooling water inlet Temperature/Pressure

18-22℃/5bar

The cooling water flow rate /PH

4.0m3/h/PH 7-8

The heating oven cooling water
Import and export temperature difference

8-10℃

Mold Cooling

Cooling water inlet temperature / pressure

8-15℃/7ar

The cooling water flow rate /PH

12m3/h PH 7-8

The heating oven cooling water
Import and export temperature difference

3.0℃

Other

Outdoor temperature 40 - (-5) ℃. Bottle blowing locomotive between 20 to 25 ℃ ambient temperature. Humidity with 60-70% advisable

A) cooling water shall not contain calcium or metal impurity, total hardness (CaCO3) is less than 140.

B) pollutant particle size should be no greater than 0.1 mm;

C) need to join the right amount of antifreeze preservatives.

The machine bearing: 2.5T/M2

Filling and Capping

Station number

Filler 32, Capper 12

Rated capacity

20000BPH/Hour (500ml/Bottle)

Filling type

Counter pressure Filling

Suitable bottle

Diameter: φ55-100, bottle height:150-310

Pneumatic pressure

0.7 MPa

Air consumption

1m3/min

Voltage

480V

Main motor power

4.5Kw

Overall dimension

(L×W×H): 4617mm×4469mm×2450mm

BLOW FILL CAP

(L×W×H): 17000mm×7000mm×3550mm